Carbonite Review
---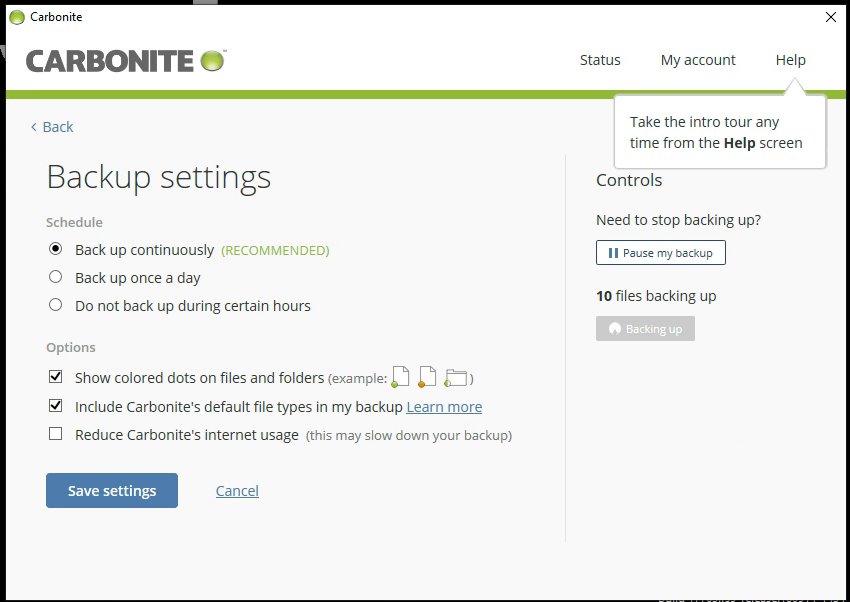 Carbonite has been around since 2005, and offers a solid cloud backup service for users. Certainly the fact that they have been around for 15 years shows that they are serious about being around for the long haul. If all you need is to backup one computer with mostly photos and office documents then Carbonite might be perfect for you.
Price: $6.00 All prices billed annually. Basic: $6.00/month. Plus: $9.34/month. Prime: $12.50/month
Pros:
Reasonable pricing.
Backup and restore easily done in the desktop app.
Easy to use.
Unlimited storage.
Cons:
Plans
No mobile apps.
Files over 4GB not automatically included.
The Great
Signing up and getting started with Carbonite is straight forward. Create an account on the website, download the app and start installation. Once installation is complete the app will start backing up. There was not even a need to enter user information, the app installation file is created to already know what account it was downloaded from. Not that entering in user account information is not overly cumbersome, but it does make it simple to start.
The initial backup of my test machine went smoothly. I did not have a great deal on the test machine, a few MB of photos, some music and videos. After checking the the backup it was obvious that the music and video files were not backed up. This was a bit of a concern, since but a quick search found the reason.
Additionally, music and video files are excluded during free trial subscriptions, and files larger than 4GB must be selected manually. After upgrading to a paid subscription, your music files will be automatically included in your backup.
More details can be found on the Carbonite website.
Restoring files you also have several options. If you need to just grab a few files you can login to the website and select a folder or a few files and download them. If you want to restore all of the files you can do that using the app. The restore wizard walks you through restoring them. You can restore to the original location or an alternate location. The app downloads all the files and restores them where you selected. I selected to restore them an alternative location and the app simply downloaded them all and placed them in the folder I selected.
Gallery
The Not So Great
Carbonite plans start at $6.00/month but are billed annually. You cannot pay monthly. The basic plan also does not include backup of external hard drives, you need to purchase the Plus plan to include that. To get the extra feature of getting a courier recovery service you will need to pay $12.50/month billed annually. It feels like Carbonite is nickel and diming people just to offer basic services that are included with some cloud backup services at the regular price.
At one point Carbonite used to offer mobile apps to access your backup. It appears that those apps have been pulled from both the iOS App store and the Google Play Store. I guess you can always use the mobile website but the fact there is no mobile app is a strike against Carbonite.
The decision by Carbonite to limit file selection to files below 4GB and to not select all files for backup just seems to set people up to lose files. Yes you can manually select those files but most people just want easy, they don't have IT departments to come and setup their computers and make sure everything just works.
Overall
To be honest I was pleasantly surprised with Carbonite. The user interface was nice and it is simple for people to setup and get started using the service. Unfortunately that is as far as the simple goes for using Carbonite. Underneath the service has some problems that they have had for a long time, primarily the restrictions on what is included on the plans and the files that it automatically decides to backup. The fact is you can get better plans from Backblaze that includes backup of external hard drives and restore via courier service for less price.