Cloudways Review
---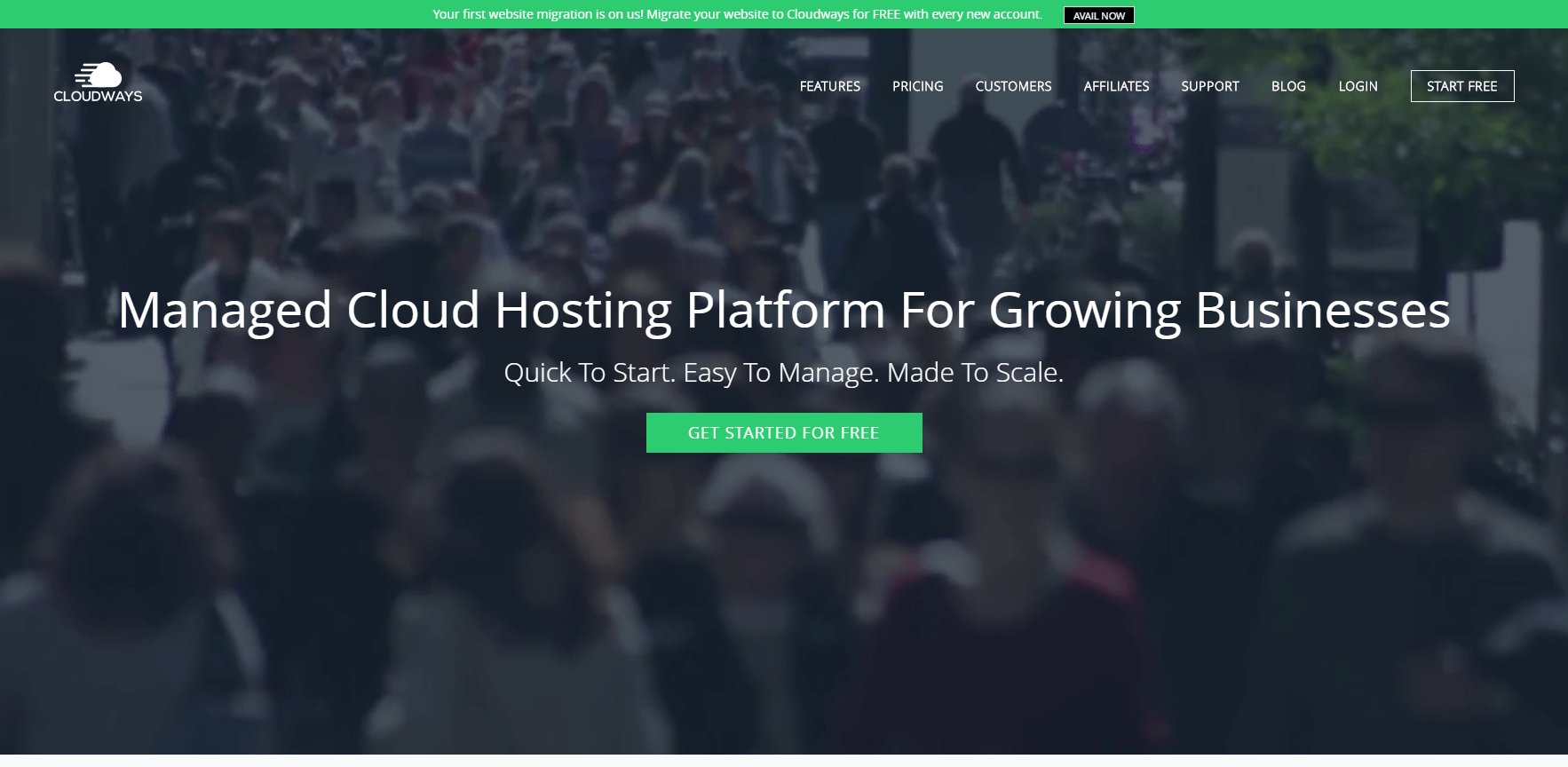 Cloudways offers a great balance for people wanting the power and speed of cloud hosting with the ease of use of shared hosting. They are an excellent option for those that just want a web host that works and takes care of the many small details. If you are looking for a new web host I would recommend you give Cloudways a try. The speed and ease of use make it easy for anyone.
Price: $10.00 Plans start at $10.00/month depending on hosting provider chosen.
Pros:
Can start for free.
Sets up the software you need.
Server responds quickly.
Manages software updates for you.
Cons:
Root access does not seem possible.
They own the account on the cloud services. Could be a problem if Cloudways closes or has a bad customer.
Getting Started
I was recently at a WordCamp and attended a session on website speed, since it is bit of an obsession of mine in my day to day work. Server speed is always something that can be improved so when the speaker had some very good things to say about Cloudways I made it a point to check them out. Overall I am very impressed with the service. They are similar in someways to how ServerPilot works, they don't run the servers themselves but leverage other cloud hosting services including Amazon Web Services, DigitalOcean, Google Cloud Platform, Kyup and Vultr. Pricing depends on what cloud service you choose to host on.
The Great
I setup a basic 512MB WordPress instance on DigitalOcean just to get an idea of how Cloudways worked. Just like setting up a droplet on DigitalOcean in few minutes the server was ready and I was able to login to the WordPress website and run few basic tests. Since I was most interested in how fast the server would respond I opened a browser window at tools.pingdom.com and ran a test from both Dallas and San Jose.
| Tested From     | Time     | Speed     |
| --- | --- | --- |
| San Jose | 19:16 | 769ms |
| San Jose | 19:20 | 497ms |
| Dallas | 19:08 | 805ms |
| Dallas | 19:20 | 337ms |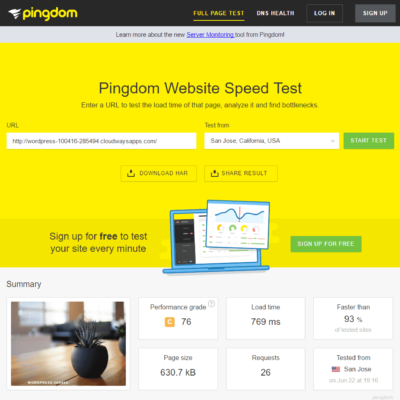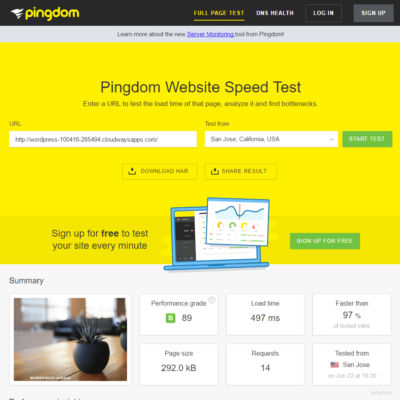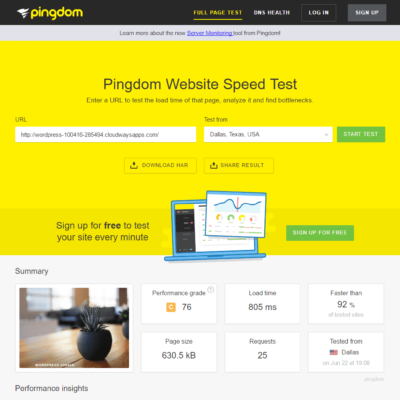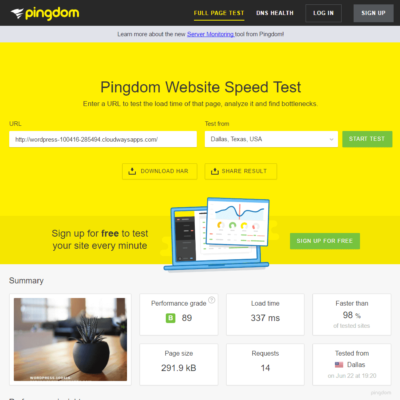 This is far from an extensive set of tests, but you can see that the initial test is a little slower, roughly twice the speed, of the second test. Granted the speeds are still very good, and I would imagine any other subsequent speed tests would provide the faster speeds. The most likely reason for the significant speed increase between the first and the second test is the fact that Cloudways installs and configures the Varnish cache on the servers they manage. The first request primes the Varnish cache and the second request is served straight from Varnish and never even touches the WordPress install. It does make for a very quick serving site without the headache for the user to learn how to install and manage Varnish.
I also quite liked the server management dashboard on Cloudways. It is easy to use and understand. Setting up a server is easy to do and just a matter of filling in some details and they take care of the rest. That is perhaps the best part of Cloudways, the simplicity of a shared host provider, with the speed and agility of a cloud provider.
The Not So Great
I like to tinker, and I realize I am not the average user in this respect, but Cloudways does limit SSH access on the servers. For example it appears root access is simply not allowed on the servers. While I understand the reasoning behind that policy it is also the same reason that I would not want to use them. That does not mean that others should not use them, I would simply find it limiting.
Other services that are similar to Cloudways require that you have your own account with the cloud services you use. This makes sense since the person responsible for the content on the servers is the one that pays the bill for the server. Cloudways differs on this. I did not need a DigitalOcean account to start up a Cloudways application on DigitalOcean. That means the company that is responsible for that server as far as DigitalOcean is concerned is Cloudways. That concerns me, since one bad account on Cloudways could possibly take down all of Cloudways servers.
While I did like the server management dashboard on their site I did have some trouble with it. Whenever I tried to access the PHP or Varnish settings pages it would never load. It would simply just sit there and spin. Since I was just giving things a quick test I did not worry about it to much but if I was using them for production hosting make sure you can access and manage all of the settings pages, especially since root SSH is not allowed. Those settings pages in the server dashboard might be the only way to adjust and fix settings on your server.
Overall
If you are considering a new web host I would recommend you take a look at Cloudways. The speed is very good and if you are moving from any kind of shared hosting environment, Cloudways will simply blow you away. I found it easy to setup a server, the speed was quick and it would take very little time to get a new or existing website up and running on Cloudways.
---
For the record, I am a Cloudways affiliate. If you signup for Cloudways through my link they will compensate me but that in no way has impacted my review.